Here are the simple steps to use conversational text messaging to capture your customers'
attention and loyalty:
Invite customers to sign up. Announce your program to current customers by
sending them a text message inviting them to join.
Promote your loyalty program. Be sure to promote how easy it is to text to join your program at every customer touch point, from coupons on your website and social media postings to ads and promotions inside your business.
Capture mobile numbers at checkout. Also, be sure to get their number so you
can text them after first purchase, if they haven't opted-in ahead of that time.
Incent them to join. Be sure you explain the value they will get from your
loyalty program.
Be consistent. Once a customer joins your program, continue to converse with them on a
regular basis. Never sell, do have a conversation.
Continue to improve. Use analytics in your advanced conversational text messaging
system to track, measure, and improve your loyalty program. Use surveys and single
question messages to capture further insights on what your customers want.
How Corner Club Grew Revenues and Loyalty with Conversational Text Messaging
Corner Club is a small restaurant in the downtown area of a large city. They serve breakfast and lunch 7 days a week and dinner Thursday through Sunday nights for local residents. Their business was good but not growing during the breakfast and lunch hours. The owner, Janet, wanted to increase her repeat business from all of the neighboring office buildings, since she knew that  were the key to growing her revenues and bottom lines. Jan decided to start the Corner Club, a loyalty program that gave customers weekly discounts on specific offers, as well as points for purchases they can apply toward free food.
Jan had her graphics designer create a cool logo, a compelling program offer and a short code that a
customer can use to easily text and join. She put this information in her advertisements, table mats, menus, and on cards and posters around the restaurant.
As part of the promotion, customers were given the following offer. This offer was specifically designed to compel customers to join. Who can say "No," to a free dessert or coffee drink?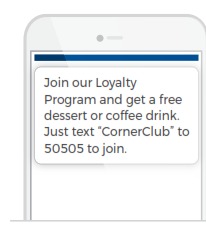 When customers send the keyword "CornerClub" to 50505, an automated welcome campaign was triggered to begin for that customer.

Ongoing Loyalty Engagement
Corner House also created an ongoing loyalty campaign for their Corner Club members. Messages
that are regularly sent out include the following.
Monthly offers as well as ad hoc special events are announced to customers via text messages.
For example: